| | |
| --- | --- |
| | The Trimodal Power Amplifier: 2.0 |
The Trimodal amplifier is a unique design that is instantly switchable between Class-A and Class-B. There are no compromises of any kind in either mode.

The Trimodal PCB has now been updated so that the latest MT-200 package output transistors can be used. The supply-rejection has been improved so that power supply reservoir capacitors of 10,000uF can be used if required, rather than the 20,000uF originally recommended. The noise performance has been improved, and there have been many other minor improvements.

Exceptionally low distortion into low impedance loads.
Unique design offers operation in three modes: A, AB and B as required- hence Trimodal Amplifier.
Very low distortion in all modes- barely measurable even with top-flight test equipment in Class-A mode.
Very low noise, due to innovative feedback design.

PCB 002: £27:50 each
Kit 002: £125:00 each
F E A T U R E S

The Class-A mode does not (unlike some designs) clip abruptly if faced with an unusually low impedance load. It instead moves seamlessly and without audible disturbance into Class-AB operation.
One of the disincentives to building a Class-A amplifier is that a mistake in the quiescent-control circuitry can let through a huge fault current that destroys all the output devices in an instant. The same applies to bias-generators in Class-B, but these are normally much simpler and the chances of getting something disastrously wrong is much less.
With this in mind the Trimodal amplifier includes a safety-circuit to limit the current flowing even if the Class-A controller is completely non-functional. The safety-circuit consists of very few components so it can be meticulously checked in very little time.
The radical change in internal conditions from B to A is accomplished completely silently, while the amplifier is operating. Direct comparison between the two modes is extremely simple.
The Trimodal principle allows you to experiment with Class-A with confidence. Many constructors of Class-A amplifiers find that the resulting unit gets worryingly hot, even if the heatsinks are enormous compared with a Class-B design of the same power. The Trimodal allows you to experience the highest grade of Class-A reproduction without committing yourself to it. The alternative of superb Blameless Class-B operation is always available at the touch of a switch.
Optional input bootstrapping to raise input impedance.
Full overload and short-circuit protection.
P C B The Trimodal PCB is produced to the highest quality standards:

Double-sided plated-through-hole fibreglass PCB
Gold-plated pads
Fixing holes and output device positions provided for direct mounting to a heatsink.
Solder mask both sides and full screen print. Board size 138 by 130 mm.
Fully RoHS compliant.
S P E C I F I C A T I O N S
Class A power output: 25W into 8 Ohms with +/-24V supply. Assumes adequate heatsink.
Class B power output: from 25W to 100W into 8 Ohms, depending on supply voltage. Assumes adequate heatsink.
Power supply: +/-24V in Class-A mode, up to +/-40V in Class-B mode*
Distortion: Class-A. Less than 0.0003% at 1kHz, 20W/8R. (20kHz BW) Less than 0.0015% at 10kHz, 25W/8R. (80kHz BW)
Distortion: Class-B. Less than 0.0006% at 1kHz, 25W/8R. Less than 0.004% at 10kHz, 25W/8R. (80kHz BW)
Noise out: Less than -95 dBu (22-22kHz bandwidth, RMS, source resistance 50R)
Output DC offset: less than +/- 25mV
Gain: 23 times (+27.2 dB)
Frequency response: +/-0.1 dB, 10Hz - 20kHz
Input impedance: 2.2k without bootstrapping, 10k with bootstrapping option
* The Trimodal PCB will actually operate correctly in Class-B mode from supply rails of +/-3V or lower, so initial testing can be done at low risk by slowly winding up a variable transformer. It will not of course meet its full specifications at this voltage.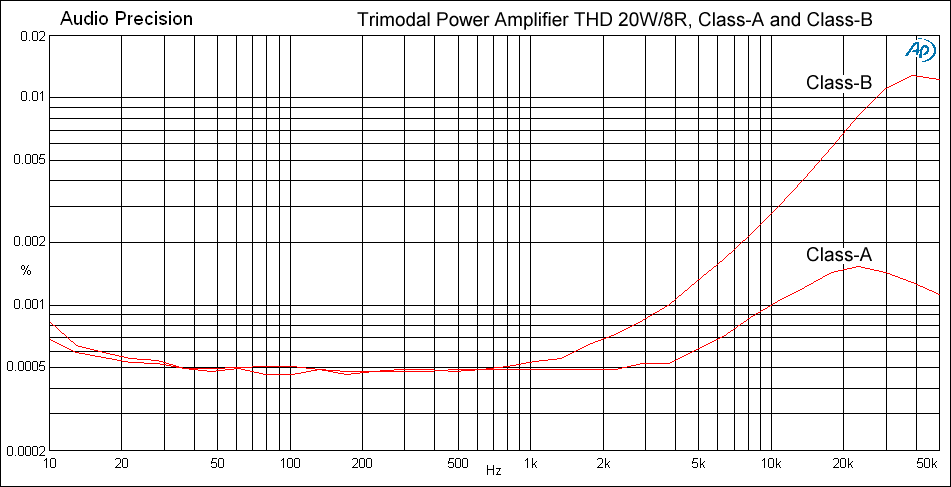 This graph shows the amplifier THD when running from the minimum supply rails. Performance at higher supply rails is slightly improved.
Measurement system Audio Precision SYS-2702. Measurement bandwidth 80 kHz